What Would You Like To Discover?
We specialize in working with residential and commercial properties of all sizes and offer a wide variety of services including general contractor work, foundation work, roofing, painting, carpentry, and much more. The crew at XP Construction can do commercial work up to 35,000 Cubic Feet and up to 3 families/3 stories high.
Offering superior craftsmanship and elevated customer service in Massachusetts since 2019
Commercial property is much more than just an investment. It is a place for your business to thrive, grow and succeed. The commercial remodeling and contracting industry help you turn your property into the best possible space for your business. Commercial contractors are responsible for all aspects of a project, from design to finish. They also provide all the necessary services for you, such as construction management and project management. Commercial remodeling is a significant investment and it should be done with care. When you can't trust just anyone with your project, give the design experts at Exponential Construction a call. 
Commercial remodeling is a process that involves the change of the structure, layout, and design of an office or commercial building. It is usually done by general contractors who provide all the services you need to create a pleasing atmosphere for your employees.
The most common reasons for commercial remodeling are:
– To improve the space so that it can be used better and more efficiently
– To make it more attractive for clients and visitors
– To make it more accessible to disabled people
– To update outdated space
Renovation Services for your business
Whether you want to give your commercial space an upgrade, modernize it, or enhance your commercial space, we are here for you.
Apartments are the best option for people who want to live close to work or in an area with good schools. Multi-family residential apartments have undergone major transformations in recent years. With the introduction of luxury condos and apartments, landlords are now competing with each other to offer more than just affordable rent. Apartments are the best option for people who want to live close to work or in an area with good schools. They are also great for people who don't want to spend time on home maintenance. When you partner with Exponential Construction, you are partnering with a company that has years of impressing the masses, while providing quality construction that lasts for years to come.
Office spaces are not just for work. Most people want to be able to enjoy their office space and have it reflect their personal style. Creating a visually pleasing space for your clients or employees to work or relax is just as important as opening your doors. Whether you have a dental office, physician's office, or a variety of different office types in your building, upgrading your building will give your tenants a comfortable and functional office space. A successful office space is not just functional, it also needs to be visually pleasing to the eye. Having a visually pleasing space can increase productivity, employee morale, and make your business stand out from the competition. 
Your retail store or small business shop is your livelihood. Your family as well as your employees and their families depend on your store as well.  Your customers come to your shop not only for the merchandise but also for a well-laid-out store. With new and fresh designs, you will attract new customers to your store.  A store should have a welcoming space that is inviting to the customer. It should have a sense of luxury and innovation. Give the expert designers at Exponential Construction a call and we will help you bring your vision to light. 
A car dealership is a place where people go to buy their dream car. The dealership is not just a place for selling cars, it's also an experience. Your showroom floor is the epitome of everything cars. From the shining silky smooth, high-gloss coating, to the desks, cubicles, and chairs, tucked in the back offices, that your clients sit in, your showroom or auto dealership speaks volumes about you. You want your customers to be comfortable when they come to your dealership to buy a car or possibly have their car worked on. As a dealership, placement, organization, and visualization all go into play when it comes to the overall appearance of your auto dealership. A well-designed showroom will make the customer want to buy a car and that's what the remodeling of the dealership is all about.
The fitness center is an integral part of a healthy lifestyle. The gym is usually a place where people go to exercise, but it can also be a place where they go and socialize with others. They are a community of people who all share the same goal of bettering themselves. They motivate each other to be their best selves and help one another in their journey. It is important that the fitness center is set up to accommodate both types of activities. Don't trust just anyone when it comes to remodeling your fitness center. Give us a call here at Exponential Construction.
When a guest pulls into the parking lot of your restaurant, everything they see projects an impression to their mind. From the exterior appearance to the layout of the tables inside, every detail creates an opinion for your customers.  You want this impression to be an amazing impression. In order to do this, you must remodel your interior and exterior in order to create a flow that is visually appealing.  The designers at Exponential Construction are ready for your call. They will guide you through the process of remodeling your space. When your newly remodeled restaurant is completed, you are sure to be pleased! No one does remodeling like Exponential Construction!
A commercial building is a building that has been built for use by the public. These buildings are usually owned by private companies or individuals and are used for a variety of purposes. In order to maintain the property, the owners often need to invest in renovations and repairs. If these repairs are not done, then it is likely that the property will start to deteriorate which can lead to higher costs in the future. There are many different types of commercial buildings including warehouses, breweries, and more. No matter which type of commercial building you have, the designers at Exponential Construction have you covered. 
We only use the highest quality of materials for your project! From brands like AZEK and many more...
Our Passion Is Helping You Improve Your Home
At Exponential Construction Corp. we aim to do things differently and stand out from all the other contractors. This is why for the past 6 years, Jose Andrade, the founder and owner of Exponential Construction Corp., has been offering homeowners in MA the contracting experience they deserve.
After doing masonry work for 4 years, Jose decided to switch to home remodeling and outdoor living space creation to help homeowners get better homes and lead better lives. Jose surrounded himself with a family team that he can trust, and together they have all the know-how and skills to create the perfect vision you have for your home.
More than that, the team keeps your needs at the forefront of their minds when working on your project. Your comfort comes first and your home is always treated with the love and care it deserves.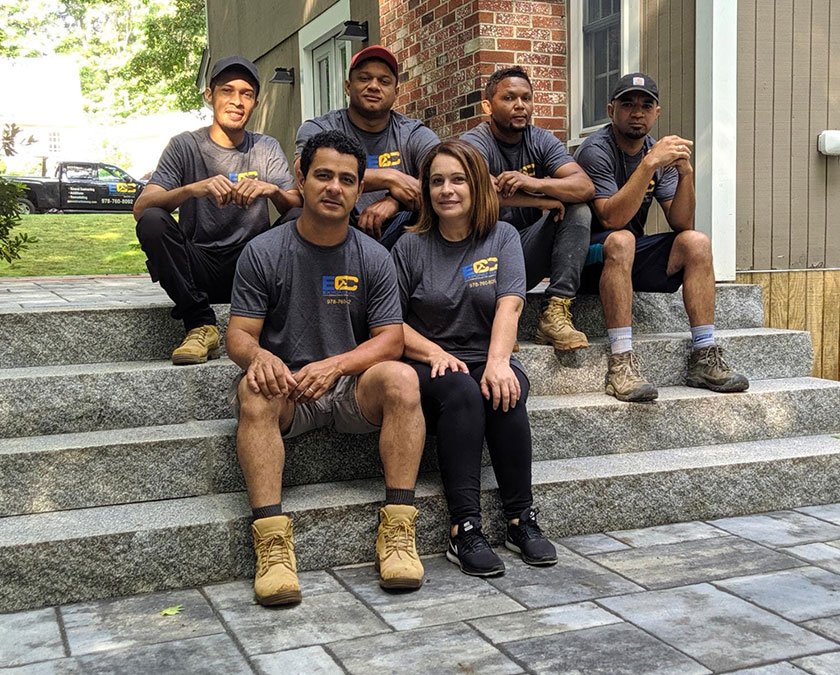 An Easy Process Designed For You
Our team treats you with respect, transparency, and makes sure that all your concerns are addressed regardless of the size of your home renovation project. Say goodbye to stress and enjoy the seamless and easy process we've designed for you.​

Fill out our form and send us pictures of your current commercial space, as well as what you want it to look like. We get back to you with a phone consultation where you can elaborate more on the vision you have. We then schedule an on-site consultation.

During the on-site consultation, we talk more about what your ideal space looks like and fine-tune your vision together. We also discuss expectations, deadlines, and answer any questions you may have. Then we get to work.

Your commercial space is now updated, and it looks amazing. Join us in a final inspection as we tick everything off the punch list. Once we leave, all that's left for you to do is enjoy and celebrate your beautiful new design.
Happy Customers Like You Say
We're honored to have helped dozens of customers like you upgrade their commercial space into a space that meets their needs and brings them joy.
It was refreshing to deal with a contractor that was on time and showed up when he said, ALWAYS kept me up to date on the work.
Excellent work and pricing. HIGHLY recommend and will use again for future projects!
Very satisfied with the quality and speed at which they completed our project.
They removed our failing wooden exterior stairway, which serves as a secondary egress. The new stairs are much wider, allowing for better access and space to move in furniture.
Also they utilized better materials so we shouldn't need to replace this one anytime soon.
Very satisfied with their response, pricing and quality.
Jose and team are fantastic. He is a serial entrepreneur. Hard worker — a go getter.
We met him when he had a masonry business because his company fixed our retaining wall after it fell in the street.
They did a beautiful job for less than the other 10 quotes we received, and several neighbors asked for his info to do their wall, as well as several friends to do interior work.
Now he is a general contractor.
Turn Your Commercial Space Into A Space That Brings You Joy Everyday