Offering superior craftsmanship and elevated customer service in Massachusetts since 2019
A Breath Of Fresh Air To Enhance Your Home
Your kitchen and bathroom are spaces that you and your loved ones use daily. As you get out of bed and step into your bathroom, you want to feel refreshed and get the energy you need for the day. You are ready to take on any challenge after sitting down in your comfortable kitchen to enjoy your first cup of coffee of the day. 
But it's difficult to make the most out of your morning and evening routines if your kitchen and bathroom don't suit your needs or fit your lifestyle.
With a new kitchen or bathroom remodel, you will be able to cherish and enjoy the start and end of each day with your loved ones, in a space that makes you feel comfortable. 
A Home You Never Want To Leave
Your home is more than just four walls and a roof. It's the place where you and your loved ones spend most of your time together. Family gatherings, holiday events, and entertaining your friends – they all happen at home. This is why your house should reflect your style, represent the person that you are, and meet all your functional needs.
Pour your love into your home and make it the ideal space for every moment throughout your day. If you feel like your house needs some extra space, a custom home addition is the perfect solution to make your home more accommodating and welcoming.
Enjoy creating lasting memories in a space that makes everybody feel at home.
Indulge Yourself And Your Family With Quality Time Outdoors
Relaxing and having a good time shouldn't take much effort. You should be able to enjoy refreshing afternoons with your friends and loved ones while at home, anytime you want. Why not give your outdoor space an upgrade and revel in all the benefits that come with it?
A stylish new deck, a patio and pergola, or an outside dining area with a fire pit will allow you to step outside and forget about all your stress. Reconnect with your family and friends, and take advantage of all the beautiful space you have on your property. You paid for every square inch of land, so make the most of it by enriching your outdoor areas.
Renovation Services To Make You Feel At Home
Whether you want to give your home an upgrade, modernize it, or enhance your outdoor living space, we are here for you.
Our Passion Is Helping You Improve Your Home
At Exponential Construction Corp. we aim to do things differently and stand out from all the other contractors. This is why for the past 6 years, Jose Andrade, the founder and owner of Exponential Construction Corp., has been offering homeowners in MA the contracting experience they deserve.
After doing masonry work for 4 years, Jose decided to switch to home remodeling and outdoor living space creation to help homeowners get better homes and lead better lives. Jose surrounded himself with a family team that he can trust, and together they have all the know-how and skills to create the perfect vision you have for your home.
More than that, the team keeps your needs at the forefront of their minds when working on your project. Your comfort comes first and your home is always treated with the love and care it deserves.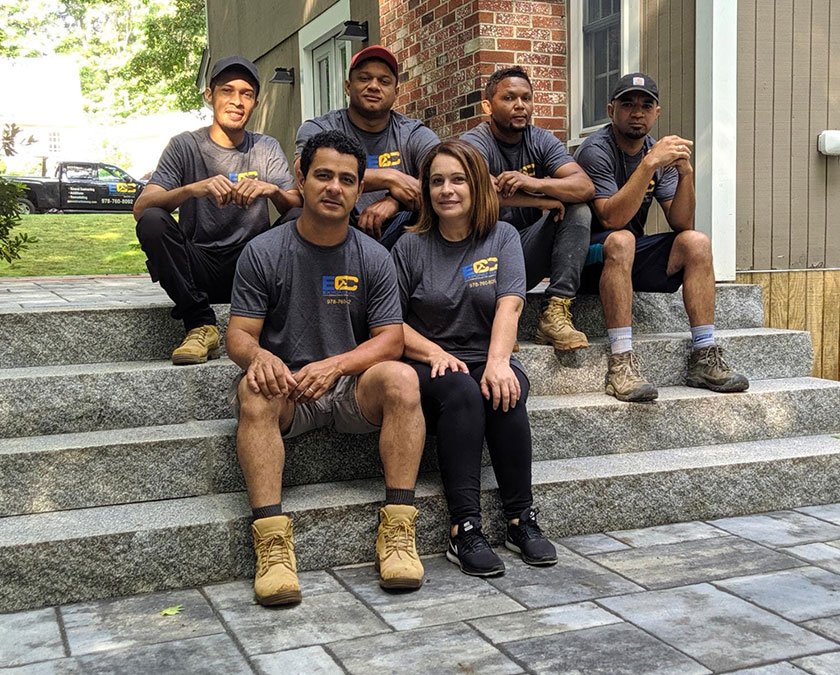 An Easy Process Designed For You
Our team treats you with respect, transparency, and makes sure that all your concerns are addressed regardless of the size of your home renovation project. Say goodbye to stress and enjoy the seamless and easy process we've designed for you.​

Fill out our form and send us pictures of your current space, as well as what you want it to look like. We get back to you with a phone consultation where you can elaborate more on the vision you have. We then schedule an on-site consultation.

During the on-site consultation, we talk more about what your ideal space looks like and fine-tune your vision together. We also discuss expectations, deadlines, and answer any questions you may have. Then we get to work.

Your entire home is now updated, and it looks amazing. Join us in a final inspection as we tick everything off the punch list. Once we leave, all that's left for you to do is enjoy and celebrate your beautiful new home.
Happy Homeowners Like You Say
We're honored to have helped dozens of homeowners like you upgrade their home into a space that meets their needs and brings them joy.
It was refreshing to deal with a contractor that was on time and showed up when he said, ALWAYS kept me up to date on the work.
Excellent work and pricing. HIGHLY recommend and will use again for future projects!
Very satisfied with the quality and speed at which they completed our project.
They removed our failing wooden exterior stairway, which serves as a secondary egress. The new stairs are much wider, allowing for better access and space to move in furniture.
Also they utilized better materials so we shouldn't need to replace this one anytime soon.
Very satisfied with their response, pricing and quality.
Jose and team are fantastic. He is a serial entrepreneur. Hard worker — a go getter.
We met him when he had a masonry business because his company fixed our retaining wall after it fell in the street.
They did a beautiful job for less than the other 10 quotes we received, and several neighbors asked for his info to do their wall, as well as several friends to do interior work.
Now he is a general contractor.
Turn Your Home Into A Space That Brings You Joy Everyday